The Born Again Heathens are a group of people who believe

that God meant it when He declared in His Word, "For God so

loved the world". This includes people who are messed up on

dope, alcohol, perversions, etc.... We came from a life that

was full of vices, after all they don`t call it "Outlaw Biker" for

nothing! In over 100 cases we have seen that there is mercy

for everyone. God changes things!! We don`t have a bunch of

by-laws, and titled positions. We tried that, and it didn`t work

out! God has made it clear that this is His baby. The only

requirements for membership that we have are;

#1 You must be a sold out Born Again Christian and #2 You

must purpose it in your heart that you are your brothers

keeper. That`s it Bro... If we will consider our neighbor more

important than ourselves, the love, honor, and respect that

it takes to run a ministry such as this will follow. If you have a

heart for the lost, especially the biker community, come join us

and help us change the world, one soul at a time!!!!





2 BAHs

tewbawz

tooboz

tuebaughs

Harley, aka Laniel Crutchfield and Chopper, aka Scott

Warmack, each had the same dream and the same vision.

Both were involved in an outlaw biker lifestyle, including

drug and alcohol abuse, when Jesus shook them up. Both

are now sober preachers of the gospel of Jesus Christ,

spreading the word of God to those who society rejects.

With a radio show that is unlike any other, they use comedy

and music with God's word to reach people who wouldn't

listen to traditional Christian teaching. Their vision is not just

a local radio show, but worldwide salvation to the lost, hurt

and dying.



email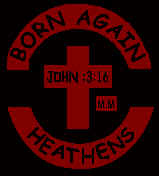 here
Copyright 2003 born again heathens
For problems or questions regarding this web contact [ProjectEmail].
Last updated: Saturday November 01, 2003.