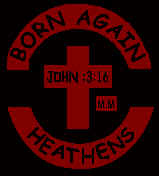 Saturdays 4:30pm, KOKS 89.5fm Poplar Bluff, MO. (Number 1 rated show,
with a bullet !)

Sundays 9:30am, KFMO B104.3fm Park Hills, MO. (rock and roll station
airing our Christian message !)

Sunday 2:30pm EST, WGRS 105.9 Stanford, Kentucky

KNLP 89.7 Potosi, Missouri
_________________________________________________________________________________
Suicide hotline...... (573) 783-5482
_________________________________________________________________________________
If you would like a copy of your newsletter send us
your name and addres and we will send you a copy
of your news letter
And to all who have blessed us in any way, we
appreciate and love you.
May God richly Bless you and yours.
How you to can become a sponsor of "The Born Again Heathen Show".
#1 Pray for our continued strength to deliver God's word to those whom society has
forgotten.
#2 Send a donation. We appreciate our sponsors and because of you we are
now on 2 stations. KOKS 89.5 FM, Poplar Bluff, MO and KFMO B104 FM,
Park Hills, MO. We are currently the number one rated show on KOKS.
CHECK or MONEY ORDER TO:
Born Again Heathens

PO Box 93BAH Home

Patterson, MO 63956
Soon we will have a secure server for credit card orders and
donations.This ministry sometimes grows faster than our website,
so pray forour blessings too. You know a cup of coffee every
day costs morethan a $5/week sponsorship. If you feel like
like your tithe is paving a parking lot rather than the path
to Heaven, sponsor our ministry.You will be blessed by helping
to witness to the lost. Thank you and God bless you.
_________________________________________________________________________________________
Copyright 2003 born again heathens
For problems or questions regarding this web contact [ProjectEmail].
Last updated: Thursday November 13, 2003. back to top