use "back" button to return
event highlights............
November 25, 2003
faith family worship center
pastor: B.K. hinton
506 Apple ST.
Poplarbluff Mo.
time: 7:00pm
the band will be playing there also

December 5,2003
Born again heathens will be at
Waukegan Ill. if you need more information on this event email the Born Again Heathens

Dec 31 2003 new years eve
will be at
RED SEA JAM-4 with
Holy Moses music ministries
with Ray Van Dover in
Poplarbluff MO at the
first church of god
hwy 67 south

don't forget to listen to.....
The Born Again Heathens Radio Show
| | |
| --- | --- |
| | Saturdays 4:30pm, KOKS 89.5fm Poplar Bluff, MO. (Number 1 rated show, with a bullet !) |
| | Sundays 9:30am, KFMO B104.3fm Park Hills, MO. (rock and roll station airing our Christian message !) |

Back to Top

email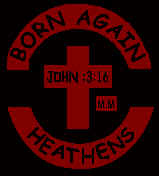 here
Copyright 2003 born again heathens
For problems or questions regarding this web contact [ProjectEmail].
Last updated: Monday November 10, 2003.